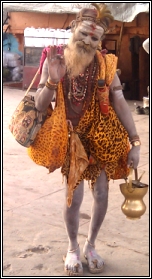 Welcome to KMP2010.com Website.
The KMP 2010 Team went to India during February and March of 2010 to
experience the Kumbha Mela in Haridwar.

The trip was very eventful and media of every type was obtained.

We have created a "photo album" of some of our friends that we met with with during the trip,
as well as some videos produced using footage from this trip set to music.
Thanks for your interest, and we hope you enjoy this record of the 2010 Kumbha Mela in Haridwar India.
---
KMP 2010 PHOTO ALBUMS -

"During our stay in Haridwar for the Kumbha Mela, we spent a lot of time by the Ganges river. The images seen in this video are from David Brunn's Google Phone video, and my own Canon (camera) video. "Mother Ganges" represents our views of this sacred river, as seen through our low resolution videos. In some of this footage you can clearly hear the sounds of the Kumbh Mela going on in the background, echoing down the river from various locations. The song "Beloved", by Anoushka Shankar sets the perfect mood for this tribute." - Alex Johnson
---
Haridwar Kumbh Mela 2010 Dates:



14 January 2010 (Thu) - Makar Sankranti Snan - First Snan (bath)

15 January 2010 (Fri) - Mauni Amavasya and Surya Grahan ( Sola Eclipse) - Second Snan

20 January 2010 (Wed) - Basant Panchmi Snan - Third snan

30 January 2010 (Sat) - Magh Purnima Snan - Fourth Snan

12 February 2010 (Fri) - Maha Shivratri - Pratham Shahi Snan - First Royal Bath

15 March 2010 (Mon) - Somvati Amavasya - Dvitya Shahi snan - Second Royal Bath.

24 March 2010 (Wed) - Ram Navmi - Fifth Snan

30 March 2010 (Tue) - Chaitra purnima snan

14 April 2010 (Wed) - Baisakhi - Pramukh Shahi Sanan.

28 April 2010 (Wed) - Shakh Purnima - snan


---
KUMBHA MELA 2010 HARIDWAR LINKS
http://haridwar.nic.in/
http://www.gmvnl.com/newgmvn/districts/haridwar/
http://forum.indianetzone.com/5/kumbh_mela_india.htm
http://www.thecolorsofindia.com/kumbh-mela/kumbh-mela-dates.html
---